At the top of this page is a directory of the current studies and white papers available. Click your topic of interest to read. Each page on our site includes this directory so you can easily navigate around our site.
Any thoughts or comments are welcome.
Contact Us
323.696.0967
Most Popular Articles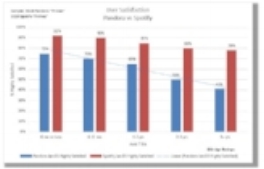 Spotify's growth is partially at the expense of Pandora. Read more.
Our Office
9 Corporate Park
Suite 240
Irvine, CA 92606
323.696.0967
United States
Bridge Ratings is a media consumption analysis firm specializing in traditional and digital media usage around the world. Our clients come to us seeking unique insight into the demographic and psychographic consumption behaviors of consumers primarily in the audio space.
TeenTrends, a subsidiary of Bridge Ratings, focuses on 12-17 year old consumption behavior.
If you or your company require an understanding of the status and behavior of today's audio consumer or the performance of media companies, please send us a note below and we'll be in touch quickly.